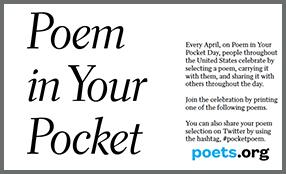 Here are two great ideas for celebrating Poem in Your Pocket Day.
In Teaching with Heart, Jovan Miles, a high school math coach, shared how he shares poems in his pocket to engage students throughout the year.   Check it out and try it today – or any day in the year.
Sometimes I write song lyrics, lines from a poem, quotes, or questions on a note card and use a paper clip to attach the note card to my shirt pocket. Students will walk up to me and ask me what my message means, and we'll have a short conversation about the message, why I chose it, and how it applies to school.
It's an easy way for me to make students think deeply about something without my having to overtly bring it to their attention. I try to write things that will provoke a question, a laugh, a double take, or some other type of response that lets me know either that students "get" what I'm trying to say or that they want to "get" it.
I once wrote, "You can pay for school but you can't buy class" on my note card and wore it around on my shirt pocket all day. The line was rapped by Jay Z on T. I.'s song "Swagga Like Us," which was a popular song when I taught eighth-grade math during the 2008–2009 school year.
The eighth grade students were often very rude to one another and to some of the new staff members, and I wanted to bring that to their attention without lecturing them or beating them over the head with admonitions about good behavior. I was able to teach them that good manners and socially acceptable behavior, or class, was something that had immense value to them as adolescents and would later be useful to them as adults. I was only able to do this because my "lesson" came in the form of a conversation initiated by the students.
Samuel Reed III shared with us what the U School in Philadelphia is doing for Poem in Your Pocket Day:
On Thursday, April 21st, the U School will celebrate our 2nd annual Poem in Your Pocket day. At the U School We Love. We Dream We Do. Our students are given real world opportunities to apply knowledge and fulfill their greatest potential.
Last year during National Poetry Month, we celebrated our first School Wide Poem in Your Pocket event. This year's will be bigger and better. Students will select and read poems from established poets and their own published poems; carry and share poems from their pockets and parade our larger than life performance puppets on and near Temple University's campus.  For more check out the U School flier.
---
How are you celebrating Poem in Your Pocket Day?