By many measures, teaching is the toughest ‒ and the most important ‒ job in America.
To do it well, takes an ongoing and ever-fascinating conversation that engages the heart, mind, and spirit.
Our website is modeled on our poetry books, Teaching with Fire, Leading from Within and Teaching with Heart. In these books, we asked teachers to speak about who they are, why they do what they do, and how they keep their heart and commitment alive in their work and life. We asked them to reflect on these questions because we believe that what inspires and impassions teachers is worth sharing. We created this website to create a virtual community where teachers can continue to share about teaching and the teacher's life.
WRITE blog posts about teaching, the teacher's life or a favorite poem.
ANSWER the lively and thought-provoking "Teachers Talk" interview questions.
JOIN with us in reading #Mindfulness Mondays poems each week.
SUBSCRIBE to our blog and be automatically entered to win monthly drawings for Book Giveaways.
Looking for the Perfect Gift for Your Special Teacher?
National Teacher Day, May 8, 2018
Staff Appreciation Week, May 6 -12, 2018
End-of-the-Year Gifts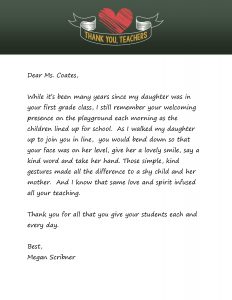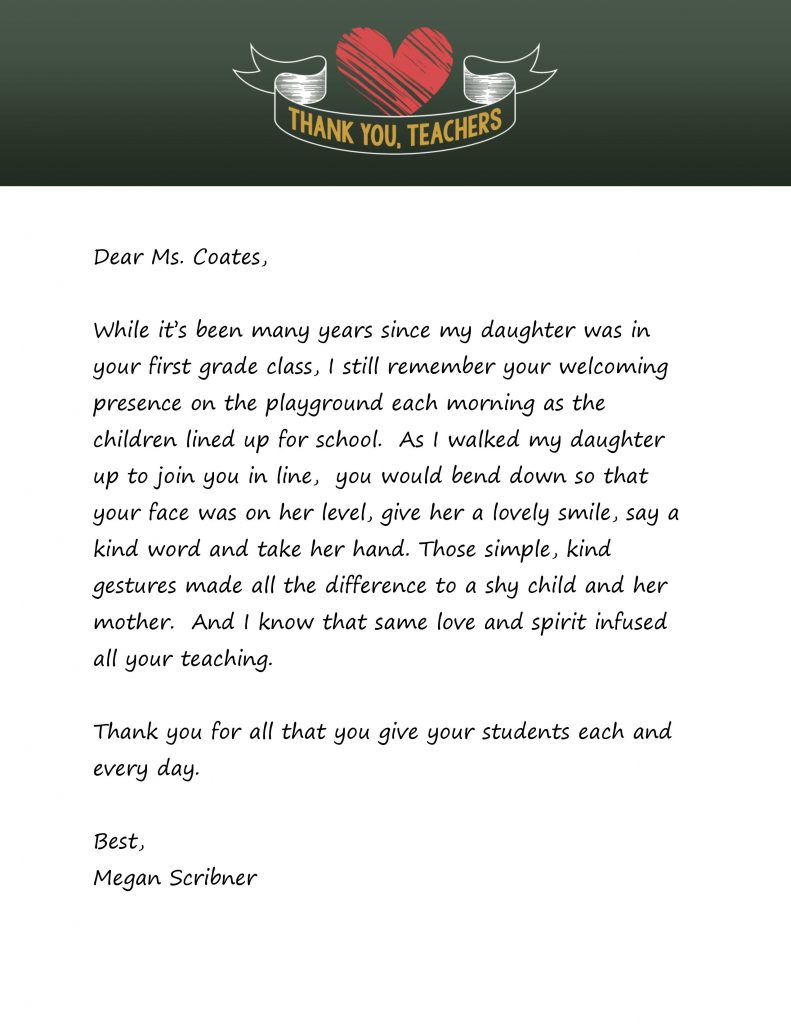 We invite you to write a heartfelt note of appreciation to the teacher or staff person that has helped your child learn and grow this this year. Such a letter will warm your teacher's heart. The ideal gift for the special teacher in your life. Better yet, through the Thank You, Teachers Project, you can post a short thank you letter to your teacher online. So all the world will know about your terrific teacher!
We also offer a special Gift Package: In addition to posting your letter online, we will send a printed copy of your thank you letter and an autographed copy of Teaching with Heart: Poetry that Speaks to the Courage to Teach to your teacher. Teaching with Heart is a collection of ninety treasured poems, each accompanied by a teacher's personal reflection that speaks to the questions, challenges and triumphs that lie at the heart of the profession. This uplifting collection salutes the tenacious and relentless optimism of teachers and their belief that, despite the many challenges and obstacles of the teaching life, much is possible.

I am having trouble finding the right words to describe my feelings about this book. I opened it at random and was drawn in. Hours–and a few tears–later I emerged, feeling stronger personally and more optimistic about education's future. I wish I could afford to buy copies of Teaching With Heart for all the teachers I have interviewed in my 40 years of reporting. My budget can't handle that. Instead, I recommend that all of us non-teachers buy copies of this inspiring book for teachers we know. ‒ John Merrow, Education Correspondent, PBS NewsHour, and President, Learning Matters, Inc.
This book is a great gift for the teacher that has made a difference in your child's life, or the principal that has made a difference in the educational process for your family, or your cousin who teaches in another state. The book will speak volumes about your respect for what they do each and every day. I will treasure this gift to my soul. – Theresa Kaufman, Founder and CEO, Kauffman Leadership Academy
Written by and for teachers, Teaching with Heart, is the ideal gift for teachers!
Parents/Students: To thank your teacher, fill out the thank you letter form or the special gift package form.
PTAs and Principles: Contact us to order Gift Packages – posted and printed thank you letters and autographed copies of Teaching with Heart – to be sent to your school. You can arrange for individual letters for each teacher or one big "Shout Out!" to all the teachers at your school.   The cost for these Gift Packages is $30.00.
To ensure on-time delivery, place orders for National Teacher's Day and Staff Appreciation Week by April 20, 2018. Place orders for End-of-the-Year gifts by May 21, 2018. To place an order or for more information, contact us at tyteachersproject@gmail.com.
Thank you for helping us send a wave of gratitude to teachers across the country!