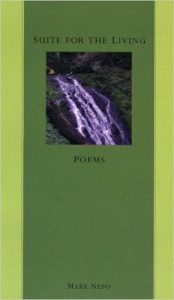 The holidays interrupted my planned posts for the "Week of Mark Nepo" – a week dedicated to Mark's poetry and his other writings.  Today, I returned to the last few posts to finish out the week. I was pleased to find that this post is a good fit for contemplating our resolutions and plans for 2017.
In Leading from Within, Wayne Muller, an ordained minister, therapist, and author, chose to reflect on Mark Nepo's poem, "Accepting This."  Wayne spoke about how many people are "overwhelmed, exhausted, and discouraged" and feel they can't do enough to heal the ills of the world. Something many of us may feel.
Yet, rather than stay with this sense of despair, both Mark and Wayne turn to what is that "we can do."  It turns out, we can do a lot.
I hope by sharing Mark's poem and Wayne's reflection here, you can find some nourishment for the year ahead.
Wayne Muller's reflection of "Accepting This"
Today, all the good people are exhausted.
The teachers, parents, community leaders, social workers, doctors, clergy, nurses—those who keep our dreams alive, keep us drenched in hope, faith, and courage—they are overwhelmed, exhausted, and discouraged. We are all painfully aware of how little we have to offer, given the weight and magnitude of the sorrow, injustice, or pain we are to witness and heal.
Doctors believe they have not healed enough; parents ache for not better protecting their children; community leaders cannot stand up for one more fight; nurses wish they could care more than their sixty-hour week allows; clergy are ashamed for not healing enough fractured, lonely souls.
This is our challenge: What is enough?
After two life-threatening illnesses, I have learned to move slowly, to need and accept care, to remember the miraculous nourishment of the kind word, the hand upon hand, the simple company of two hearts breaking together. Jesus said, "Pay attention to the small things, how they grow." The mustard seed, the leaven in the bread, the pearl of great price—these, he said, are the small, simple seeds of heaven on earth.
Now, when I speak with groups of good-hearted community leaders and healers, I ask of us only this: Remember how small things grow. We cannot heal it all. But as my dear friend Mark Nepo writes, "We can feed each other." We can offer small, nearly invisible kindnesses that take flight into some resplendent future, effortless, alive.
This is what we can do.
—Wayne Muller
Accepting This
Yes, it is true. I confess,
I have thought great thoughts,
and sung great songs—all of it
rehearsal for the majesty
of being held.
The dream is awakened
when thinking I love you
and life begins
when saying I love you
and joy moves like blood
when embracing others with love.
My efforts now turn
from trying to outrun suffering
to accepting love wherever
I can find it.
Stripped of causes and plans
and things to strive for,
I have discovered everything
I could need or ask for
is right here—
in flawed abundance.
We cannot eliminate hunger,
but we can feed each other.
We cannot eliminate loneliness,
but we can hold each other.
We cannot eliminate pain,
but we can live a life
of compassion.
Ultimately,
we are small living things
awakened in the stream,
not gods who carve out rivers.
Like human fish,
we are asked to experience
meaning in the life that moves
through the gill of our heart.
There is nothing to do
and nowhere to go.
Accepting this,
we can do everything
and go anywhere.
—Mark Nepo
---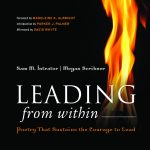 Mark Nepo's poem, "Accepting This," and Wayne Muller's reflection were published in Leading from Within.  For this book, we asked leaders of all levels – teachers, doctors, lawyers, coaches, activists, parents, heads of organizations and businesses and many more – to  reflect on how poetry helps them make sense of the challenges and possibilities in their work.
The 93 contributors represent a wide range of professions including Vanguard Group founder John Bogle, MoveOn.org co-founder Joan Blades, several members of Congress, Christian activist Brian McLaren, business guru Peter Senge, and many other leaders from business, medicine, education, nonprofits, law, politics and government, and religion.
In addition to this remarkable line-up of leaders, Leading from Within, we were honored to have a powerful and moving Foreword by Madeleine K. Albright, an inspiring and thoughtful Introduction by Parker J. Palmer and an illuminating Afterword by David Whyte.
The poems include works by well-loved poets such as T.S. Eliot, Mary Oliver, William Stafford, Rumi, Langston Hughes, May Sarton, Pablo Neruda, Rainer Maria Rilke, Robert Frost, Rumi, and Wendell Berry.
You can also find
a copy of "Accepting This" in Mark Nepo's Suite for the Living and in his latest book, The Way Under The Way: The Place of True Meaning.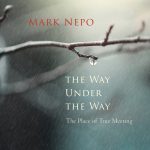 Please be sure to check out Mark's website for more of his poetry, his other writings and his schedule of book talks and events.