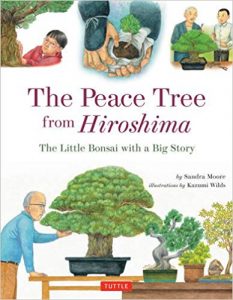 May 13th Book Giveaway:
In honor of World Bonsai Day (May 13th), we will be giving away an autographed copy of The Peace Tree from Hiroshima: The Little Bonsai with a Big Story written by Sandra Moore and illustrated by Kazumi Wilds. Subscribers to our blog will receive one blog post a week and be entered for this and all of our Book Giveaways. Subscribe by midnight on May 12th for this drawing. The winner will be randomly selected on May 13th.
The Peace Tree from Hiroshima: The Little Bonsai with a Big Story
From the book: "In 1625, when Japan was a land of samurai and castles, I was a tiny pine seedling. A man called Itaro Yamaki picked me from the forest where I grew and took me home with him. For more than three hundred years, generations of the Yamaki family trimmed and pruned me into a beautiful bonsai tree. In 1945, our household survived the atomic bombing of Hiroshima. In 1976, I was donated to the National Arboretum in Washington D.C., where I still live today—the oldest and perhaps the wisest tree in the bonsai museum."
The Peace Tree from Hiroshima: The Little Bonsai with a Big Story is a true children's story told by a little bonsai tree, called Miyajima, that lived with the same family in the Japanese city of Hiroshima for more than 300 years before being donated to the National Arboretum in Washington DC in 1976 as a gesture of friendship between America and Japan to celebrate the American Bicentennial.  Age Range: 8 – 12 years
**Winner of the 2015 Gelett Burgess Award for Best Intercultural Book**
**Winner of the 2015 Silver Evergreen Medal for World Peace**
Reviews:
First-time author Moore draws from the story of a centuries-old bonsai tree that was donated to the United States for the 1976 bicentennial. The miniature white pine, she explains, became known as the Peace Tree, "because it is a symbol of friendship between Japan and America." The tree narrates its journey, beginning with its birth in an island forest "nearly four hundred years ago" where it is collected and subsequently tended to by a man named Otaro. An elderly Otaro gives the bonsai to his son, who passes it to his son, and so on. "In 1945, something terrible happened," the tree says as Wilds (All About Japan) shows a tiny airplane on an page streaked with dark purples and grays; the next pages show a vast expanse of beige rubble, the aftermath of the bombing of Hiroshima. The tree and its caretaker survived, and Moore goes on to trace the bonsai's path to the National Arboretum in Washington, D.C. Closing notes separate fact from fiction and discuss the art of bonsai in this straightforward but affecting tribute to patience, dedication, and a generosity of spirit that surmounted tragedy. Ages 8–up. (July) — Publisher's Weekly

"How can one explain to children the effects of a nuclear bomb, and how it impacts people around the world?  It can be an awkward subject.  Countries that were at one time enemies but are now allies can set a good example for the world.  It all starts with one little sapling…Trees have great memories, and I do hope that humankind will remember the atrocities of the past (and present) and find ways to live more peacefully in the future.  I am pleased that there isa children's book, inspired by a true event that sheds a positive light on a harsh subject." —Castle View Academy blog
"The Peace Tree from Hiroshima by Sandra Moore is a beautiful story that weaves together history, geography, family, nature, sadness, peace, and hope. [It] will captivate your children from the first page…[It] can lead to a variety of learning opportunities." —MyLittlePoppies.com blog
"Wilds' full-page landscape illustrations are the best: lush green forest teaming with flora and fauna, the stark and monochrome shock of a bombed city, and the gorgeous blue sky and pink blossoms of a rebuilding land. Moore's use of a novel perspective gives way to a discussion about the meanings of history, war, and peace." —Asian Fortune News
Sandra Moore began her writing career as a ghost writer for a senator on Capitol Hill, and has worked as a freelance journalist specializing in writing about children and families. She studied writing for children at the Washington Writers' Center. This is her first book.
Kazumi Wilds illustrated Tuttle's All About Japan (Tuttle, 2011) and has illustrated several other children's books, including The Wakame Gatherers (Shen's Books, 2007). She lives in Japan but is currently studying in the United States. See her work at wildskazumi-picturebook.jimdo.com
Many thanks to Sandra and Kazumi for donating their book for our Book Giveaway! Don't forget to subscribe to our blog to be entered for this drawing – and all the others.
If you have a book you'd like to donate for our Book Giveaways, please contact us at teachingwithheartfirepoetry@gmail.com.  Thanks!