Mindfulness Monday Poems: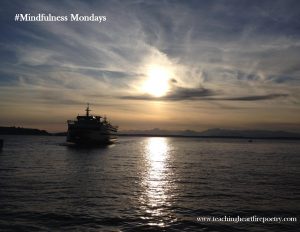 As promised, below is the ongoing list of the poems and links to the blog posts for #Mindfulness Mondays.
2018:
February 5th: Phyllis Cole-Dai's "On How to Pick and Eat Poems" from Poetry of Presence.
February 12th: Marianne Williamson's "A Return to Love" from Teaching with Heart.
How to participate in #Mindfulness Mondays
Each Monday, I'll post part of a poem here on the #TeachingWithHeart blog and on our Teaching With Heart Facebook page. Why only part of a poem? We don't have permission to reprint all of the poems online. But we are allowed to post a few lines – so I'll post a few to perk your interest  and motivate you to carry out your Mindfulness Monday poetry practice. (I figure we all can use this kind of help.)
Our hope is that you'll purchase the two books and get the poems in their entirety. That way, we can all be "on the same page" and be in a virtual poetry club together.
All told, it's an investment of $41.90 for two books, for over 250 poems – about 17 cents a poem/a week. Click here to purchase Poetry of Presence and here for Teaching with Heart.
Poetry of Presence is also available through the Grayson Books, Barnes & Noble  and Amazon. Teaching with Heart is also available through Barnes & Noble, Indie Bound and Amazon.  As you may have noticed, I list Amazon last, because while Amazon may save you a few dollars, authors get a higher percentage of the price and royalties when you buy their books directly from them or their publishers. Just saying…
If you'd like to know more about #Mindfulness Mondays, the poems or the books, please contact us at teachingheartfirepoetry@gmail.com.