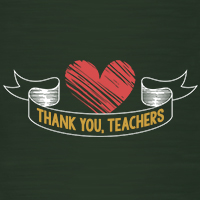 Today is #NationalTeachersDay. Be sure to thank a teacher today! But let's also remember how much they do each and every day – and give  them our thanks and support throughout the year.
That's why we created the Thank You, Teachers Project.  So you could post letters of thanks to the teachers in your life – any day of the year. Thank you letters to the teachers who have helped your child learn and grow this year. To those who quietly offered extra help when needed.  To those who showed up with a smile. To those who have come in each and every day to give their best and teach classrooms full of children – that in and of itself is worthy of praise and thanks! And to those teachers who helped you, way back when, learn about the world, discover something about yourself, or gave you a hand up when you most needed it.
Everyday this week, and periodically as they come in, we will post these thank you letters on this blog.  We will also keep them posted on our Thank You, Teachers Gallery Wall and on Pinterest – so the world can see the great work they're doing and how they're making a difference in our lives.  We will also share other's blog posts, articles, poems about their teachers here, on Facebook and twitter.  (If you know of such a post, article or poem, please share them with us at tyteachersproject@gmail.com.)
If you have a teacher to thank – who doesn't? – you can use the Thank You, Teacher Project form to post a thank you letter to them. We also invite you to include a copy of Teaching with Heart – a book written by teachers for teachers. It's a gift that will last throughout their teaching career and be a continual reminder of your gratitude for their good work.
Here's the form for sending your teachers a thank you letter and Teaching with Heart.  Questions? Check out our FAQ or email us at tyteachersproject@gmail.com.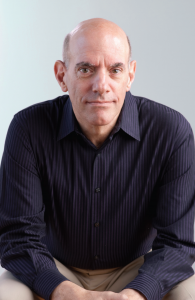 Our first thank you letter this week is from the Mark Nepo, author of The Book of Awakening, The Way Under the Way and many other fine books and poems.  Several of his poems and reflections are in our books – Teaching with Heart, Leading from Within and Teaching with Fire – and we featured Mark and his work with "A Week of Mark Nepo" on this blog in January.  Type in "Mark Nepo" in the search box for these posts.
Mark Nepo's Thanks to Hugh MacClean
In his letter, Mark writes to Hugh MacClean, the professor who gave him "confidence to follow my calling" as a poet.  And we're glad he did!
Thank you Mark for the lovely letter.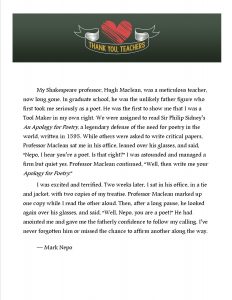 Here's the text and an image of the letter which is now up on the Thank You, Teachers Gallery wall.
My Shakespeare professor, Hugh Maclean, was a meticulous teacher, now long gone. In graduate school, he was the unlikely father figure who first took me seriously as a poet. He was the first to show me that I was a Tool Maker in my own right. We were assigned to read Sir Philip Sidney's An Apology for Poetry, a legendary defense of the need for poetry in the world, written in 1595. While others were asked to write critical papers, Professor Maclean sat me in his office, leaned over his glasses, and said, "Nepo, I hear you're a poet. Is that right?" I was astounded and managed a firm but quiet yes. Professor Maclean continued, "Well, then write me your Apology for Poetry."

I was excited and terrified. Two weeks later, I sat in his office, in a tie and jacket, with two copies of my treatise. Professor Maclean marked up one copy while I read the other aloud. Then, after a long pause, he looked again over his glasses, and said, "Well, Nepo, you are a poet!" He had anointed me and gave me the fatherly confidence to follow my calling. I've never forgotten him or missed the chance to affirm another along the way.

— Mark Nepo