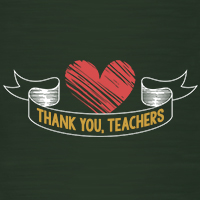 Acts of kindness give me hope. They tell me that we are more than we have been made out to be!  There are so many people and organizations stepping up to do good and important work these days – I encourage us all to find something, someone, to support on this #GivingTuesday.
I also encourage each of us to consider another way of giving: #Giving Thanks.
Teachers have one of the toughest – and the most important – jobs in America. Every day in classrooms across the country, these dedicated professionals put in long hours educating students, preparing lessons, grading homework, engaging with families, collaborating with colleagues, and overcoming obstacles. Their work is vital to children, parents, communities, and our future, yet rarely do teachers receive the thanks they deserve.
We wanted to change that – so we created the Thank You, Teachers Project where people can post thank you letters to the teachers in their life: from kindergarten through college…. from the in classroom, on the field, in the art studio, on stage, in the library, or even in the principal's office.  While our main focus is on teachers in the schools, it's likely that we all have many people who have been important teachers in our life – in the classroom and beyond.  You can choose any teacher you'd like to thank and you can thank more than one! Parents are encouraged to help their children participate.
All letters will be posted on the Thank You, Teachers Gallery and Pinterest for all to see. The teachers will be notified when the letters are posted. (There is no charge for this option. We volunteer our time to this effort as our part of our commitment to support and honor teachers.)
Please also consider sending a gift book package – a thank you letter and a copy of Teaching with Heart – to your special teacher. The funds raised through this gift package help support the work of the Thank You, Teachers Project. Order by December 15th to have an autographed copy for your teacher for the holidays.  Check out our FAQ for more information or contact us directly at tyteachersproject@gmail.com.
Thank you for helping us create a wave of gratitude to lift all teachers!