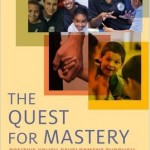 In The Quest for Mastery: Positive Youth Development Through Out-of-School Programs, Sam M. Intrator and Don Siegel investigate out-of-school programs dedicated to helping underserved youth succeed in school, college, and beyond.
From rowing to youth radio, from lacrosse to studio art, intensive programs aim to create "communities of practice" that engage young people in meaningful learning experiences and support them in striving to excel. Through richly detailed accounts, the authors describe the unconventional ways these programs have evolved and articulate the formidable challenges they face in operationalizing their aspirations.
By documenting the powerful effect out-of-school programs like these can have in transforming lives, the authors show how young people can become engaged in meaningful and productive learning experiences and highlight the poignant contrast between what these students experience inside and outside of school.
Praise and Endorsements for The Quest for Mastery:
"These researchers have tried to understand what makes youth programs such as theirs distinctive from school-related activities and what can schools learn from this kind of endeavor. Summing Up: Recommended. All readership levels." — R.C. Morris, CHOICE
"With intelligence and compassion, The Quest for Mastery documents how a well-run afterschool program can turn around the life of an at-risk child and help kids who are struggling discover the focus, self-discipline, and sense of community they need to succeed." – Geoffrey Canada, president and CEO, Harlem Children's Zone
"In The Quest for Mastery, Intrator and Siegel bring to life the core principles that underlie positive youth development in out-of-school programs. Their interviews with youth, staff, parents, and teachers, coupled with their observations and notes from the field, can guide, inspire, and transform educators' efforts to expand opportunities for young people." – Deborah Lowe Vandell, dean, School of Education, University of California, Irvine
"Intrator and Siegel explore exemplary out-of-school programs that teach young people about identity and integrity, growing up, and aspiring to success through sports and the arts. Working alongside caring, committed adults, youth learn about the power of passion, discipline, and community. The Quest for Mastery promises a better future for the young and for our world." – Parker J. Palmer, author of Let Your Life Speak and The Courage to Teach
"This terrific book is proof of hope made real in the lives of the kids who need it most." – Neil Nicoll, president and CEO, YMCA of the USA
About the Authors:
Sam M. Intrator is a professor of education and child study and is the director of the Urban Education Initiative at Smith College. Don Siegel is a professor of exercise and sport studies at Smith College. Intrator and Siegel are codirectors of Project Coach, an afterschool youth program in Springfield, Massachusetts.