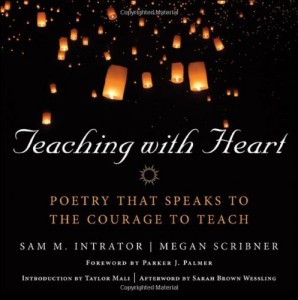 Each and every day teachers show up in their classrooms with a relentless sense of optimism. Despite the complicated challenges of schools, they come to and remain in the profession inspired by a conviction that through education they can move individuals and society to a more promising future.
In Teaching with Heart: Poetry that Speaks to the Courage to Teach a diverse group of ninety teachers describe the complex of emotions and experiences of the teaching life — joy, outrage, heartbreak, hope, commitment and dedication. Each heartfelt commentary is paired with a cherished poem selected by the teacher. The contributors represent a broad array of educators: K-12 teachers, principals, superintendents, college professors, as well as many non-traditional teachers. They range from first year teachers to mid-career veterans to those who have retired after decades in the classroom. They come from inner-city, suburban, charter and private schools.
The teachers identified an eclectic collection of poems and poets from Emily Dickinson, to Richard Wright, to Mary Oliver to the rapper Tupac Shakur. It is a book by teachers and for all who teach.
The book also includes a poignant Foreword by Parker J. Palmer ( The Courage to Teach), a stirring Introduction by Taylor Mali (What Teachers Make) , and a moving Afterword by Sarah Brown Wessling ( Teaching Channel ). See the Table of Contents below.
Where Teaching with Fire honored and celebrated the work of teachers; Teaching with Heart salutes the tenacious and relentless optimism of teachers and their belief that despite the many challenges and obstacles of the teaching life, much is possible.
Royalties from Teaching with Heart support programs offered through the Center for Courage & Renewal.
To order Teaching with Heart
Jossey-Bass / Wiley : Wiley accepts school purchase orders, contact Chris Hegg, chegg@wiley.com, to facilitate a price quote and for ordering information for orders of 35 books or more.
Praise for Teaching with Heart:
[
Teaching with Heart
] is the most poignant book that has come across my desk in a long time
….
When I was asked to provide a blurb for the jacket, I did so with pleasure. This is what I submitted: "I am having trouble finding the right words to describe my feelings about this book. I opened it at random and was drawn in. Hours–and a few tears–later I emerged, feeling stronger personally and more optimistic about education's future. I wish I could afford to buy copies of "Teaching With Heart" for all the teachers I have interviewed in my 40 years of reporting.  ‒ John Merrow, Education Correspondent, PBS NewsHour, and President, Learning Matters, Inc.
See Merrow's reviews at Gifts for Education Wonks and Others and Merrow's review on his blog, Taking Note, where you can also read "Purple" by Alexis Rotella one of the poems featured in Teaching with Heart.
Here's a suggestion for the summer. If you care about learning, teaching, schools or parenting, get a copy of Teaching with Heart… The book contains some of the most majestic, memorable writing I've ever read. Whether as a parent, grandparent or educator, you've probably experienced the exhilaration, and sometimes frustration, of working with youngsters. You'll recognize, identify with and enjoy the complex array of emotions described here.  – Joe Nathan, Director at the Center for School Change.
Read Nathan's full review here.
No blog about books would be complete without a year-end "best of" list…. For poetry, I believe Teaching with Heart: Poetry That Speaks to the Courage to Teach is a collection and a resource that I will continue to draw upon. – Catherine Stover, award-winning writer.
Read Stover's review on her A Fine Line weekly blog
Teaching with Heart reminded me why there is something deep about teaching that no data, no class, no observation can show. Teaching is poetic and deserves a muted sense of awe just as soul-sparking as the poems contained within this collection. … I am thankful for yet another resource that brought me both to earth and the clouds about the purpose of teaching and learning. Teaching with Heart strummed a complex chord of teaching in a way that my usual stockpile of research and pedagogical reads can't do. It resonated with that hidden but present purpose of why teaching is worth every calorie of energy.  – Chase Mielke, Michigan Teacher of the Year nominee.
Read Mielke's full review at his Affective Living blog.
Teaching with Heart: Poetry that Speaks to the Courage to Teach is one of the loveliest books I have had the pleasure to read, and it is one I know I will return to frequently... The experience of reading through this book is unique. The different way that each teacher connects with his or her chosen poem is one of the most interesting elements of Teaching with Heart. Sometimes the teacher makes an explicit connection to the poem, describing how it offers inspiration or wisdom, or connects to a specific aspect of teaching; other times the poem echoes a feeling or relationship in the prose piece, and it is up to the reader to draw the connection. This variety of approaches keeps each entry fresh. What we end up with is a wholly unique window into the heart, imagination, and real work of each teacher. – Ariel Sacks teaches 8th grade English Language Arts in New York City.
Read Sack's full review at The Middleweb.
There is one common trait that is in the DNA of teachers—a stubborn and intense desire to do everything possible to help their students flourish and succeed… During Teacher Appreciation Week, I recommend to you Teaching with Heart to pay tribute to "the relentless optimism of teachers and the belief that despite the many challenges and obstacles of the teaching life, much is possible."  – Harriet Sanford, President & CEO, The NEA Foundation and contributor to Teaching with Heart.
Read Sanford's full review at NEA Foundation website.
In the age when education has become so much about "big data," Teaching with Heart presents its own data points. The book is organized around such themes as the tenacity and hard work required to teach, along with the beauty of ordinary moments in the classroom. The editors mined through voluminous submissions of teachers' favorite poems, accompanied by brief personal stories. These 90 powerful companion pieces represent the narratives and courage of the three million teachers who make all the difference in the world. – Samuel Reed III, middle school teacher and Philadelphia Writing Project consultant.
Read Reed's full review at Philadelphia Public School's The Notebook.
I have given many copies of [Teaching with Fire] as gifts to teachers… I return to this "devotional" again and again.  The poems submitted by my fellow teachers echo my thoughts, mirror my feelings, and give me the courage to teach from my heart. This is the one essential tool in my writing teacher's toolbox.  I could not teach writing without this book…. Now ten years later, I am delighted to own the new sister volume, Teaching with Heart… has been added to my survivor tools – just as essential as its older sibling.  – Robin Holland, Co-director of the Columbus Area Writing Project and author of the "Deeper Writing (and Reading) of the World" blog.
Read Holland's full review at her blog
This book is a great gift for the teacher that has made a difference in your child's life, or the principal that has made a difference in the educational process for your family, or your cousin who teaches in another state. The book will speak volumes about your respect for what they do each and every day. I will treasure this gift to my soul. – Theresa Kaufman, Founder and CEO, Kauffman Leadership Academy.
Read Kaufman's full review here.
I have loved the first volume this duo edited, Teaching with Fire: Poetry That Sustains the Courage to Teach for 10 years. The poems and accompanying essays have buoyed me up and carried me forward. This new volume already has five poems sticky-noted for sharing, and dozens of others that made me nod and smile… it is good to have a place to go where our profession is valued, understood, and truly celebrated. This is a book I will turn to and thumb through many times throughout the school year, in good times and when I'm worn down and worn out. – Mary Lee, fifth grade teacher, poet and author.
Read Mary Lee's full review at her blog: A Year of Reading.
I don't know about you, but as we enter this last stretch of the school year, I need all of the sustenance I can get. ….. For the past week, I've come home from a day of what seems to be increasingly loud noise, squabbling and vigilant discipline measures, trying to get the tone of my classroom community back on track, and I have found solace in the words of my colleagues in this collection, where the poets have written words that go deep into the emotional core of what it means to be a teacher.  – Kevin Hodgson, sixth grade teacher and Teaching with Heart contributor.
Read Hodgson's full review on the Middleweb blog.
100 Reasons to Love Teaching with Heart: As I page through Teaching with Heart: Poetry that Speaks to the Courage to Teach, I'm struck by the deeply thoughtful writing that surrounds and upholds the entirety of the book—a book that recognizes this simple and enduring truth: To do the tough, demanding work of educating our children in the face of so many pressures requires enormous passion, courage and poetry. – Rick Jackson, Co-Founder and Senior Fellow. Center for Courage & Renewal.
Read Jackson's full review here.
Endorsements for Teaching with Heart:
Teaching With Heart is the rarest kind of book: one that actually does justice to the full range of emotion and skill teaching requires. These remarkable poems selected by teachers and accompanied by their moving commentaries provide a personal and powerful antidote to the caricatures and misperceptions we often see in the headlines or popular culture, and speak to the heart of the teaching experience. – Wendy Kopp, Founder, Teach For America & CEO, Teach For All
Although we understand that teaching is an intellectual activity, we also understand that it is a moral activity. To do it well great teachers engage both the mind and the heart. Teaching with Heart portrays that wonderful combination of the heart and mind. – Gloria Ladson-Billings, Kellner Family Chair in Urban Education, University of Wisconsin-Madison
At its best, teaching is like poetry: it inspires, challenges, and transforms. In this exhilarating collection, ninety teachers use poetry to illustrate the ups, downs, joys, frustrations, and, ultimately, the redeeming value of both teaching and poetry. In spite of the increasing demands on teachers, the disrespect with which they're treated, and the appalling conditions in which so many work, these teachers, and millions of others, continue to practice their craft with courage, hope, and love. This book will be a bedside companion to teachers who need to know they are our nation's unsung treasure, as well as a wake-up call to the nation about the value of its teachers. – Sonia Nieto, professor emerita, University of Massachusetts, Amherst and author of Finding Joy in Teaching Students of Diverse Backgrounds: Culturally Responsive and Socially Just Practices in U.S. Schools
As a poet and a teacher, I'm always looking for what is essential and how it can be of use. In Teaching with Heart, you will find both food and tools for anyone who wants to learn or teach. It inspires and models the use of what matters in life and community. A must for any classroom. – Mark Nepo, author of The Book of Awakening and Seven Thousand Ways to Listen
"Warn the whole Universe that your heart can no longer live without real love." Those words from the poet Hafiz are the reason you must buy this book, as the best possible field guide to accompany you through the brambles, over the chasms, up and down the treacherous slopes that every teacher with heart traverses every day of the year, while carrying society's most sacred trust. – Diana Chapman Walsh, president emerita, Wellesley College
Table of Contents:
A Note to Our Readers by Sam M. Intrator and Megan Scribner, Editors
Foreword by Parker J. Palmer
Introduction by Taylor Mali
Relentless Optimism
Emma Lazarus's "The New Colossus" reflection (Randi Weingarten)
Fleet Foxes' "Helplessness Blues" reflection (Stephen Lazar)
Marianne Williamson's "A Return to Love" reflection (Rachel Willis)
Edgar Lee Masters's "George Gray" reflection (Mel Glenn)
Robert Frost "The Road Not Taken" reflection (Kaitlin Roig)
Rudyard Kipling's "if" reflection (Andy Wood)
Loris Malaguzzi's "The Hundred Languages of Children" reflection (Tiffany Poirier)
Gerald Jonas's "Lessons" reflection (Julie A. Gorlewski)
Taylor Mali's "What Teachers Make" reflection (Kevin Hodgson)
Teachable Moments

Rainier Maria Rilke's "All will come again into its strength" reflection (Gregory John)
Richard Wilbur's "The Writer" reflection (Emily Brisse)
Theodore Roethke's "The Waking" reflection (Nora Landon)
Emily Dickinson's "'Tis so much joy! 'Tis so much joy!" reflection (Lily Eskelsen García)
Paul Boswell's "This Splendid Speck" reflection (Christine Intagliata)
Stanley Kunitz's "Halley's Comet" reflection (Rob Maitra)
Emily Dickinson's "If I can stop one Heart from breaking" reflection (Annette Breaux)
John O'Donohue's "Beannacht" reflection (Emanuel Pariser)
H. Lawrence's "The Best of School" reflection (Tom Vander Ark)
Beauty in the Ordinary
Fernando Pessoa's "To Be Great, Be Entire" reflection (Vicki Den Ouden)
Naomi Shihab Nye's "Famous" reflection (Safaa Abdel-Magid)
Pablo Neruda's "In Praise of Ironing" reflection (Cindy O'Donnell-Allen)
Louise Glück's "Aubade" reflection (Kent Dickson)
H. Auden's "In Memory of W. B. Yeats" reflection (Jamie Raskin)
Stephen Crane's "LVIII" reflection (Liam Corley)
Mary Oliver's "Crossing the Swamp" reflection (Maureen Geraghty)
Philip Levine's "What Work Is" reflection (Holly Masturzo)
Walt Whitman's "Section 2 from Song of Myself " reflection (Jennifer Boyden)
Enduring Impact

Naomi Shihab Nye's "Kindness" reflection (Hannah Cushing)
Margaret Atwood's "You Begin" reflection (Karen Harris)
Thich Nhat Hanh's "Please Call Me by My True Names" reflection (Ruth Charney)
William Stafford's "Deciding" reflection (Michael Poutiatine)
Li-Young Lee's "Eating Together" reflection (Wanda S. Praisner)
John O'Donohue's "For Presence" reflection (David Henderson)
Tara Sophia Mohr's "Your Other Name" reflection (Lianne Raymond)
Jim R. Rogers's "Good Morning!" reflection (Jane Zalkin)
Galway Kinnell's "Saint Francis and the Sow" reflection (Kirsten Olson)
The Work Is Hard
Antonio Machado's "VI" reflection (Michael L. Crauderueff)
Mary Oliver's "Wild Geese" reflection (Kathleen Melville)
Calvin Coolidge's "Persistence" reflection (April Niemela)
Sharon Olds's "On the Subway" reflection (Lori Ungemah)
Anonymous's "Work Gloves" reflection (Tom Meyer)
William Stafford's "Next Time" reflection (Leanne Grabel Sander)
Wislawa Szymborska's "Life While-You-Wait" reflection (Veta Goler)
Emily Dickinson's "We grow accustomed to the Dark—" reflection (Rachel Fentin)
Walt Whitman's "When I Heard the Learn'd Astronomer" reflection (Ronald Gordon)
Tenacity
Tupac Shakur's "The Rose That Grew from Concrete" reflection (Jose Vilson)
Philip Levine's "M. Degas Teaches Art and Science at Durfee Intermediate School, Detroit, 1942" reflection (Laura Roop)
Mel King's "Struggle" reflection (Susan Rodgerson)
Langston Hughes's "Theme for English B" reflection (Paola Tineo)
Irene Rutherford McLeod's "The Lone Dog" reflection (LouAnne Johnson)
Billy Collin's "On Turning Ten" reflection (Will Bangs)
Edgar A. Guest's "It Couldn't Be Done" reflection (Glendean Hamilton)
Lao-Tzu's "On Leadership" reflection (Larry Rosenstock)
William Ernest Henley's "Invictus" reflection (Caridad Caro)
Feisty
Rumi's "Out beyond ideas of wrongdoing and rightdoing," reflection (Hugh Birdsall)
Mary Oliver's "The Poet Dreams of the Classroom" reflection (Katie Johnson)
Langston Hughes's "Mother to Son" reflection (Ron Walker)
Jane Kenyon's "Otherwise" reflection (Alison Overseth)
Richard Brautigan's "The Memoirs of Jesse James" reflection (Stephen Mahoney)
Marge Piercy's "To be of use" reflection (Amy Christie)
Maya Angelou's "Still I Rise" reflection (Mary Beth Hertz)
Olive Senior's "Colonial Girls School" reflection (Dena Simmons)
The Freedom Writers with Erin Gruwell's "An Innocent Freedom Writer" reflection (Kayleigh Colombero)
Moment to Moment

Bill Holm's "Advice" reflection (Teri O'Donnell)
Katha Pollitt's "Lilacs in September" reflection (David S. Goldstein)
Herman Hesse's "The Ferryman" reflection (Rachel Boechler)
Mark Nepo's "The Appointment" reflection (Judy Sorum Brown)
Captain Ed Davidson's "Footprints by the Sea" reflection (Sandi Bisceglia)
Rumi's "The Guest House" reflection (Richard H. Ackerman)
Chuang Tzu's "Flight from the Shadow" reflection (Mark Bielang)
Thomas Merton's "In Silence" reflection (Thomas A. Stewart)
Derek Walcott's "Love After Love" reflection (Tim Ryan)
Together
John Daniel's "A Prayer among Friends" reflection (Melissa Madenski)
Maya Angelou's "Alone" reflection (Nina Ashur)
Stephen Dunn's "The Sacred" reflection (Dan Mindich)
James A. Autry's "On Firing A Salesman" reflection (Brian Dixon)
Robert Herrick's "To the Virgins, to make much of Time" reflection (Cordell Jones)
Lucille Clifton's "blessing the boats" reflection (Kathleen Glaser)
Raymond Carver's "Happiness" reflection (Dennis Huffman)
J. Kennedy's "Little Elegy" reflection (Kenneth Rocke)
Mel Glenn's "A Teacher's Contract" reflection (Harriet Sanford)
 Called to Teach

Gary Snyder's "For the Children" reflection (Julia Hill)
Maya Angelou's "The Lesson" reflection (Jovan Miles)
Gregory Orr's "It's not magic; it isn't a trick." reflection (John Mayer)
Judy Sorum Brown's "Hummingbirds asleep" reflection (Sandie Merriam)
John Fox's "Deeply Listening" reflection (Nell Etheredge)
Alexis Rotella's "Purple" reflection (Leatha Fields-Carey)
William Stafford's "The Way It Is" reflection (Donna Y. Chin)
Langston Hughes's "I loved my friend" reflection (Margaret Wilson)
Wendell Berry's "The Real Work" reflection (Amy Harter)
 Using Poetry for Reflection and Conversation
Afterword by Sarah Brown Wessling
Center for Courage & Renewal
The Contributors
The Editors
Gratitudes
Credits